Gypsy Moths may be coming to Oregon spelling disaster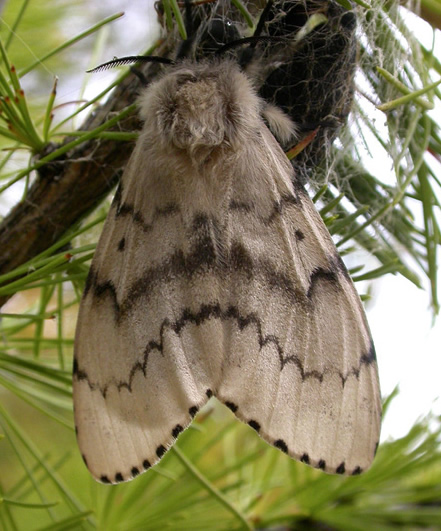 They don't look like much — but the clump of eggs left by an Asian gypsy moth could spell disaster.
A federal inspector found two clumps of eggs March 7th on a ship that had just come into the Port of Portland.
They're about the size of a dime but, "they can take away the foliage from an entire forest in a season," said Officer Ed Colford with U.S. Customs and Border Protection.
The pest is of particular concern, he said, because the female moth can fly up to 25 miles and could wipe out agriculture.
"If it were to make a hold here in the United States, it could really decimate our agricultural industry," said Colford.
Agricultural specialists trained to identify plant and pest risks found the two moth egg masses on the underside of air vents on board the massive ship. They were scraped off and the site was treated with an organic pesticide. Each mass had hundreds of eggs.
"Asian gypsy moth has a certain period where we see a lot of the egg masses on vessels. That period's generally from about March to August," said Colford.
They're taken so seriously, that in the spring of 1992, the state set up a spray project in North Portland to kill them after one of the moth's was found in a trap.
On Tuesday at the Port of Vancouver, agricultural experts found what appears to be another egg mass. It still needs to be tested, but the specialists believe they might be Asian gypsy moths.
"(They) will eat the foliage on something like 500 different species of trees," said Portland's City Forester Jenn Cairo.
"A critter that eats that many different types of trees is going to have a huge impact if it gets out. So, it's great. It's really important that the federal government has contained the ones that they found down at the port," said Cairo.